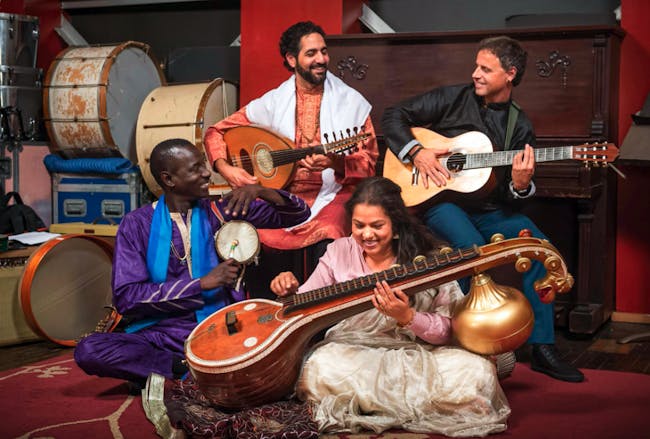 Presented by The International Museum of Muslim Cultures
Surabhi Ensemble: Unity in Diversity
$15.00 - $35.50
Canceled
On Ticketmaster
Join the Surabhi Ensemble: Unity in Diversity at Thalia Mara Hall on Friday, April 17th!
About the Surabhi Ensemble:
Surabhi Ensemble continues its international Global Peace Tour at Thalia Mara Hall in cooperation with Jackson's International Museum of Muslim Cultures in a presentation of Unity In Diversity, weaving an inspirational sonic and visual tapestry that captivates audiences with stunning and uplifting performances. Joining us from Chicago and across the globe, this is a world-class performance not to be missed!
The Surabhi Ensemble, an award-winning world music group, will be joined by Sufi dervish and African griot guest artists for a spectacular show of classical, folk, and spiritual music and dance traditions from Africa, India, the Middle East, Spain, and the Americas.
The group will also present music and excerpts from the original play, American Griot, exploring the often overlooked history of early African-American Muslims and the influence they had on American music genres.
The mission of the Surabhi Ensemble is to demonstrate the connections between cultures and to teach a positive message of togetherness in creating, performing, and demonstrating new works of music and dance. Members of the group work in many settings such as schools, hospitals, theaters, concert halls, festivals, refugee organizations, neighborhood parks, and cultural centers to share this positive message of cultural unity and outreach.
"The world needs the music and message of the Surabhi Ensemble. Their self-titled debut is a cultural touchstone bringing together the music of different global cultures in a free-wheeling folksy, jazzy, jammy good time...the intent is a positive message of togetherness."
- Worldbeat Extravaganza
Learn More About Surabhi Ensemble:
Venue Information:
Thalia Mara Hall.
255 EAST PASCAGOULA STREET
Jackson , MS, 39201