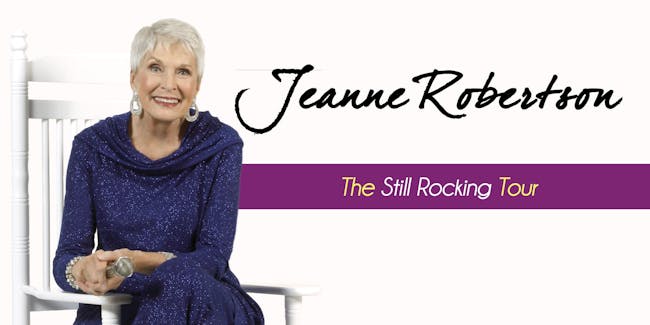 Presented by Al McCree Entertainment
Jeanne Robertson
$29.00 - $69.00
Canceled
On Ticketmaster
See Jeanne Robertson on "The Still Rocking Tour" on Friday, June 26th at Thalia Mara Hall in Jackson, Mississippi!
About Jeanne Robertson:
At seventy six, Jeanne Robertson continues to charm audiences with her humorous observations about life around her. This former Miss North Carolina, standing tall at six-foot-two, has an infectious personality, heart and sense of humor. With eight nationally released DVDs, three books, hundreds of hours on Sirius-XM satellite radio and over 87 million YouTube hits, the demand for Robertson's family-friendly and engaging brand of comedy has grown exponentially.
Some of her most popular anecdotes include "Don't Go to Vegas Without A Baptist," "Don't Bungee Jump Naked", and "Don't Send a Man to the Grocery Store." Robertson's witty depiction of everyday situations never fails to have audiences of all ages rolling with laughter. Don't miss this performance by a truly funny lady!
Group Sales:
A group discount of 10% will be available to groups of 10 or more.

Venue Information:
Thalia Mara Hall
255 EAST PASCAGOULA STREET
Jackson, MS, 39201